"Anesthetic gases represent around 5 percent of a facility's scope 1 GHG emissions and around 50 percent of an OR's emissions."

Practice Greenhealth, Anesthetic gas how-to guide
Real change comes from intentional action. Healthcare systems need to have a well-rounded visual conception of the products being purchased so that changes can be implemented. Emissions from the OR are often overlooked, but contribute a substantial amount to the facility's overall environmental impact.
Key Green Solutions offers a purchasing module that contains an anesthetic gas report. This report allows your system or facility to set a goal and view your historical baselines so that you can better establish a path to reduction of greenhouse gas emissions. After reaching out to your anesthetic gas vendors, we collect the data and upload it to our system. When you run the report, you (and your employees given access) will be able to view the costs, weights, and emissions for each type of anesthetic gas. Our reporting contains different combinations of tables and visuals; here is just one of the many graphs utilized by our customers: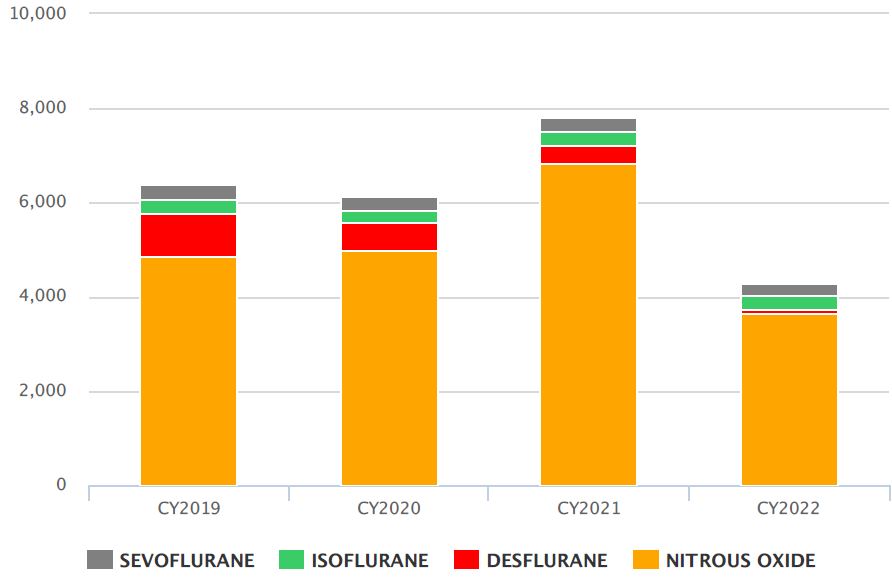 If you're interested in learning more about our purchasing module, please feel free to e-mail Relationship Manager Jeff Burks: jburks@keygreensolutions.com